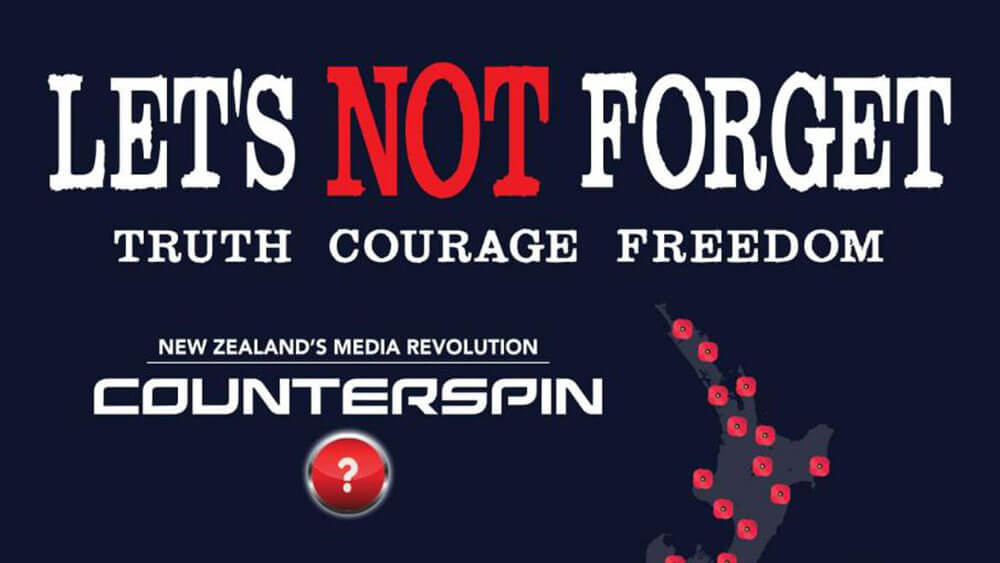 LETS NOT FORGET TOUR
COUNTERSPIN MEDIA TO LAUNCH THE "LET'S NOT FORGET" NZ TOUR,
2022 April 25th (ANZAC DAY),
Counterspin Media8 shall commence its nationwide tour.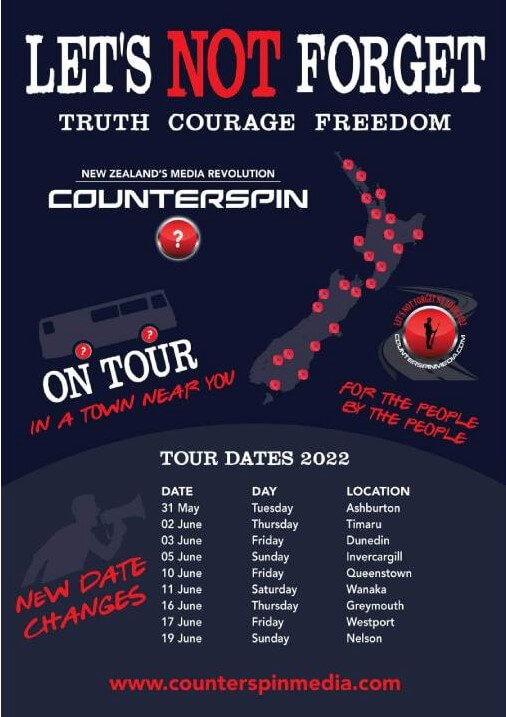 A total of 28 events are planned throughout the north and south islands, with numerous stops planned along the way for local 'meet and greet' opportunities.
Kelvyn Alp and Hannah Spierer wish to hear from you, the people. They want to document your stories – from any adverse effects due to the "jab" to the impact on your family, home, business, and relationships. They also want to know your vision for New Zealand going forward, discuss local solutions for local problems and reconnect people to see a return of that community spirit that once thrived in our country.
Geopolitical and globalist agendas are having a direct impact on New Zealand and none of it benefits you, the people. Turn off the fake news media, gather in your local communities and reclaim our nation is by uniting and supporting each other.
If you wish to support and provide entertainment, be a speaker, coordinate the events, aid with technical assistance or any other way, please get in touch.
For more information and to share your stories,
Contact Us OR [email protected]
Donations can be made via the following link www.counterspinmedia.com/donate
We shall see you all soon!
Events
View Our Current LIVESTREAM
Stop 1 : Auckland – LONE STAR – Saturday 23rd April 2022
Stop 2 : Auckland Domain – ANZAC Dawn Service – Monday 25th April 2022
Stop 3 : Taipa – BARN – Wednesday 27th May 2022
Stop 4 : Whangarei – TOWAI TAVERN – Friday 29th April 2022
Stop 5 : Warkworth – SNELLS BEACH – Saturday 30th April 2022
Stop 6 : Thames – FRIENDSHIP HOUSE – Wednesday 4th May 2022
Stop 7 : Tauranga – THE HISTORIC VILLAGE – Friday 6th May 2022
Stop 8 : Rotorua – LAKES RANCH "THE GAP" – Saturday 7th May 2022
Stop 9 : Gisborne – PEOPLE'S EXCHANGE – Sunday 8th May 2022
Stop 10 : Napier – THE DAILY TELEGRAPH – Thursday 12th May 2022
Stop 11 : Wanganui – BULA BURE CAFE – Friday 13th May 2022
Stop 12 : New Plymouth – HENUI STREET – Saturday 14th May 2022
Stop 13 : Hamilton – SHAW BIRD PARK BARN – Monday 16th May 2022
Stop 14 : Taupo – PUB 'N GRUB – Thursday 19th May 2022
Stop 15 : Palmerston North – THE HERB FARM CAFE – Saturday 20th May 2022
Stop 16 : Wellington – ALEX MOORE PARK STADIUM – Sunday 22nd May 2022
Stop 17 : Blenheim – WOODBOURNE TAVERN – Wednesday 25th May 2022
Stop 18 : North Canterbury – CUST COMMUINITY CENTRE – Friday 27th May 2022
Stop 19 : Christchurch – THE LOTUS HEART – Saturday 28th May 2022
Stop 20 : Ashburton – SINCLAIR COMMUNITY CETRE – Tuesday 31st May 2022
Stop 21 : Timaru – THE SHEARERS QUARTERS – Thursday 2nd Jun 2022
Stop 22 : Dunedin – HENLEY COMMUNITY CENTRE – Friday 3rd Jun 2022
Stop 23 : Invercargill – EAGLE PUB – Sunday 5th Jun 2022
Stop 24 : Queenstown + Wanaka – HAWEA FLAT HALL – Saturday 11th Jun 2022
Stop 25 : Greymouth – GREYMOUTH RSA HALL – Thursday 16th Jun 2022
Stop 26 : Westport – THE PINES – Saturday 18th Jun 2022
Stop 27 : Nelson – WAIMEA LOUNGE – Sunday 19th Jun 2022
Full "LET'S NOT FORGET" NZ  NATIONWIDE TOUR Dates
Brought to you by – Counterspin Media