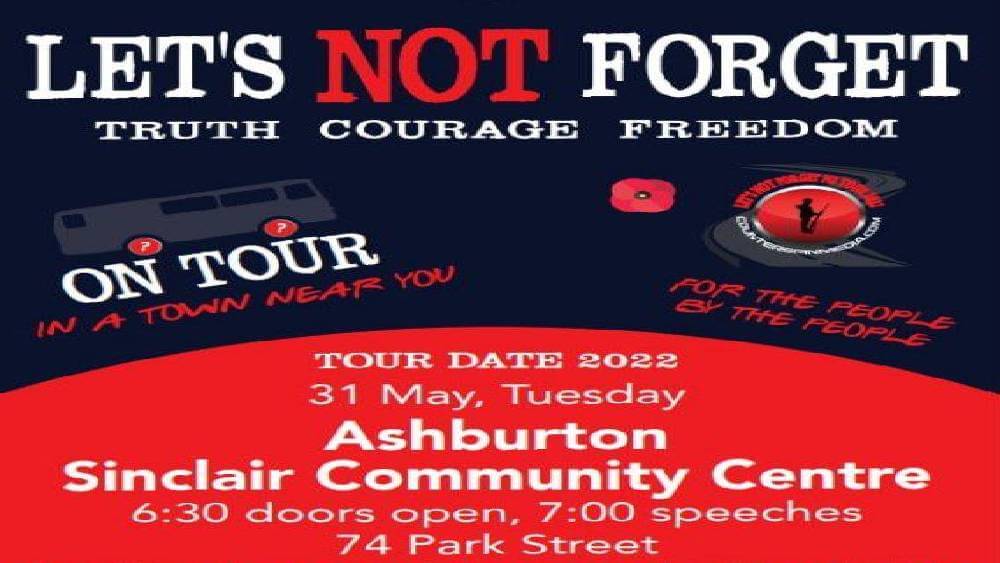 LETS NOT FORGET TOUR – Ashburton 31st May
COUNTERSPIN MEDIA will be in ASHBURTON today, on it's  "LET'S NOT FORGET" NZ  NATIONWIDE TOUR
The location "Sinclair Community Centre" 6:30pm ~ 9pm
Location 74 Park Street
Bring cash if you would like to donate to Counterspin Media
Merchandise available
"Storm" the tour bus will be on display & available to record your stories for the Covid Casualties documentary.
Speakers include:
Robbie: MC and talking about loneliness and stress
Sarah: Talking about fear and how to handle it
Kristen: Teacher, experiences about losing her job
Stefan: Deception and evolution
Frank: The problem with Bovis
Stuart: Impact of Three Waters
Mother: Daughter's reaction to the jab
Lee Williams from Cross the Rubicon
Pastor Carl Bromley (Mayoral Candidate) from Is It Just Me Nz?
Open Mic
We are covering a wide range of topics, it will be a thoroughly interesting and engaging evening.
Donations can be made via the following link www.counterspinmedia.com/donate
We shall see you all soon!
For more information and to share your stories,
Contact Us OR [email protected]
REPLAYS:
LIVE FROM ASHBURTON
Thanks to Forrest Stivens
Edit: Previous Speakers:
https://www.facebook.com/forrest.stivens.1/videos/5215062331896057
https://www.facebook.com/forrest.stivens.1/videos/531186008651522/
https://www.facebook.com/forrest.stivens.1/videos/5001387363309148/
Full "LET'S NOT FORGET" NZ  NATIONWIDE TOUR Events