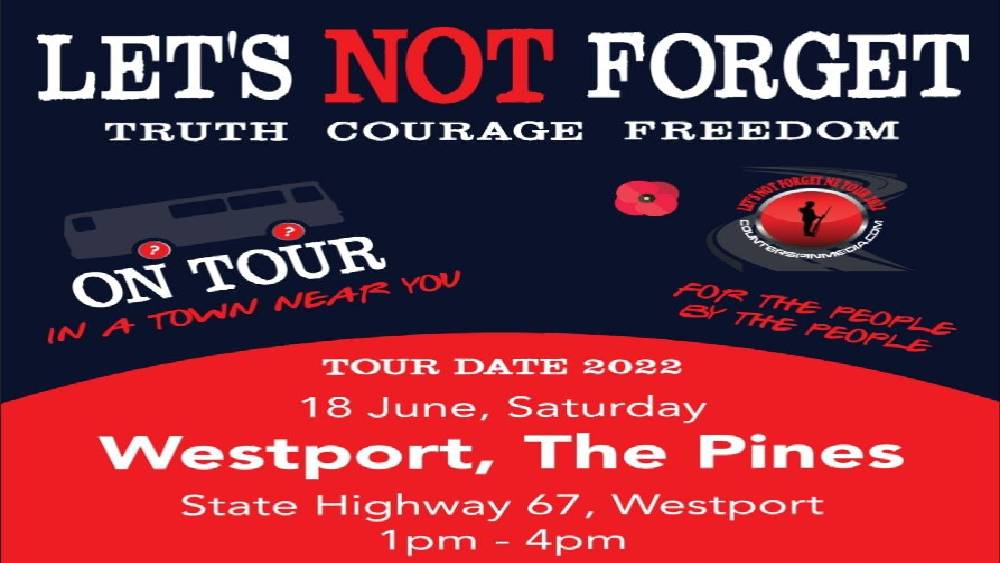 LETS NOT FORGET TOUR – Westport 18th June
COUNTERSPIN MEDIA will be in WESTPORT today, on it's  "LET'S NOT FORGET" NZ  NATIONWIDE TOUR
The location:"The Pines – Westport"  1 ~ 4pm
Bring cash for the raffle or if you would like to donate to Counterspin Media
Please bring a plate
Merchandise available
"Storm" the tour bus will be on display & available to record your stories for the Covid Casualties documentary.
Speakers :
Dana Lee discusses the importance of recognizing the difference between Maori and iwi and the way iwi are corporations being used to divide a conquer.
Jim Hilton from Karamea discusses 1080 and his activism
Stephen is a retired gentleman from Auckland who shared his thoughts on elections.
Heather-Meri Pennycook joins us again to share her knowledge on the U.N agenda and living lore.
The mic will be open to locals to share their views & stories.
We are covering a wide range of topics, it will be a thoroughly interesting and engaging evening.
Donations can be made via the following link www.counterspinmedia.com/donate
We shall see you all soon!
For more information and to share your stories,
Contact Us OR [email protected]
Full "LET'S NOT FORGET" NZ  NATIONWIDE TOUR Events