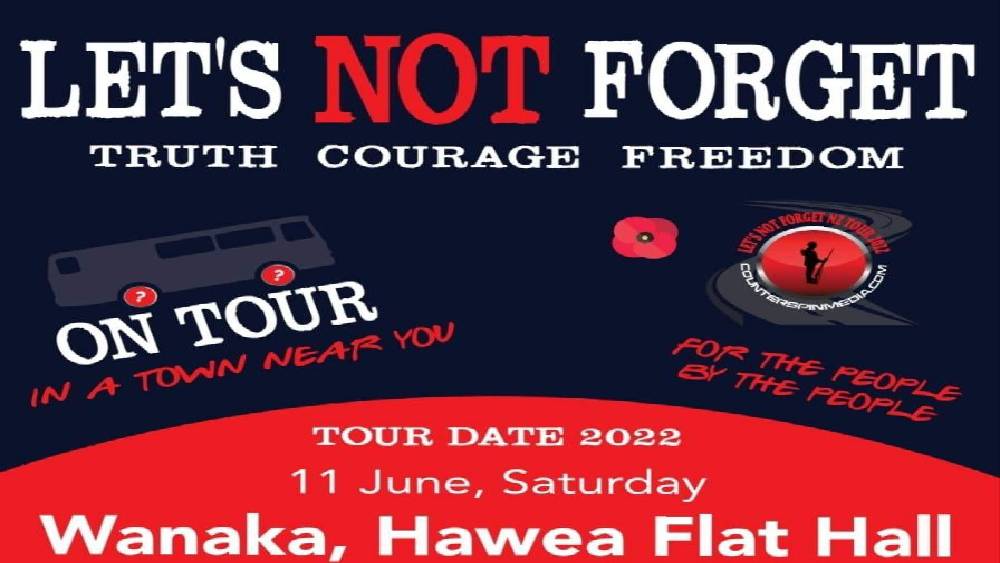 LETS NOT FORGET TOUR – Wanaka 11th June
COUNTERSPIN MEDIA will be in WANAKA today, on it's  "LET'S NOT FORGET" NZ  NATIONWIDE TOUR
The location "The Hawea Flat Hall" 6:15pm ~ 9pm
Tea, coffee and nibble available for people to help themselves during the event
Come and join us tonight and meet some great guys at the Hawea Flat Hall who all care about our freedom!
Corner Kane & Camphill Road, Hawea
Bring cash if you would like to donate to Counterspin Media
Merchandise available
"Storm" the tour bus will be on display & available to record your stories for the Covid Casualties documentary.
Speakers include:
1. Caz – Staffroom bullying and teacher mandates.
2. Randall Richards –
Eye-witness testimony is gold. A photo-
journalist's brief personal account from the USA in 1969
to 2022 at the Wellington protest.
3. Jen – D. None of the above. A new paradigm of
governance.
4. Deb – Trauma in the body and how to keep calm and
discern "truth" in the barrage of news.
5. Heather Meri Pennycook – Overveiw of WEF & UN
AGENDA. Hostile Legislation designed to shutdown
Agricultural Sector. Summary of Living Law & How to
Apply It.
6. Robyn Lelievre from Alexandra – "WTF I thought retirement would
be different."
7. Stevey Chernishov – His details are on the Bluff episode
8. Kim – True community
Open Mic
We are covering a wide range of topics, it will be a thoroughly interesting and engaging evening.
Donations can be made via the following link www.counterspinmedia.com/donate
We shall see you all soon!
For more information and to share your stories,
Contact Us OR [email protected]
Full "LET'S NOT FORGET" NZ  NATIONWIDE TOUR Events