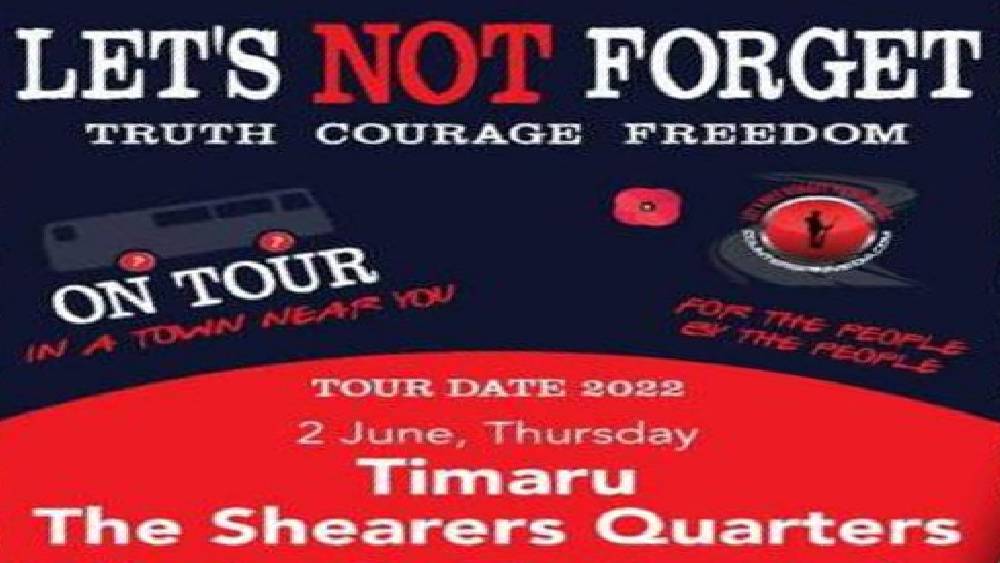 LETS NOT FORGET TOUR – Timaru 2nd June
COUNTERSPIN MEDIA will be in TIMARU today, on it's  "LET'S NOT FORGET" NZ  NATIONWIDE TOUR
The location "Shearers Quarters" 6pm ~ 9pm
Cafe Open
Location 924 Seadown Road, Temuka
Bring cash if you would like to donate to Counterspin Media
Merchandise available
"Storm" the tour bus will be on display & available to record your stories for the Covid Casualties documentary.
Speakers include:
Hadleigh Oudemans: MC Is a Sovereign Declaration of Independence Possible?
William Bisset: Minimising Jab Damage & Shedding
Phillip Tomlinson: Institutions and Assumptions
Open Mic
We are covering a wide range of topics, it will be a thoroughly interesting and engaging evening.
Donations can be made via the following link www.counterspinmedia.com/donate
We shall see you all soon!
For more information and to share your stories,
Contact Us OR [email protected]
Full "LET'S NOT FORGET" NZ  NATIONWIDE TOUR Events