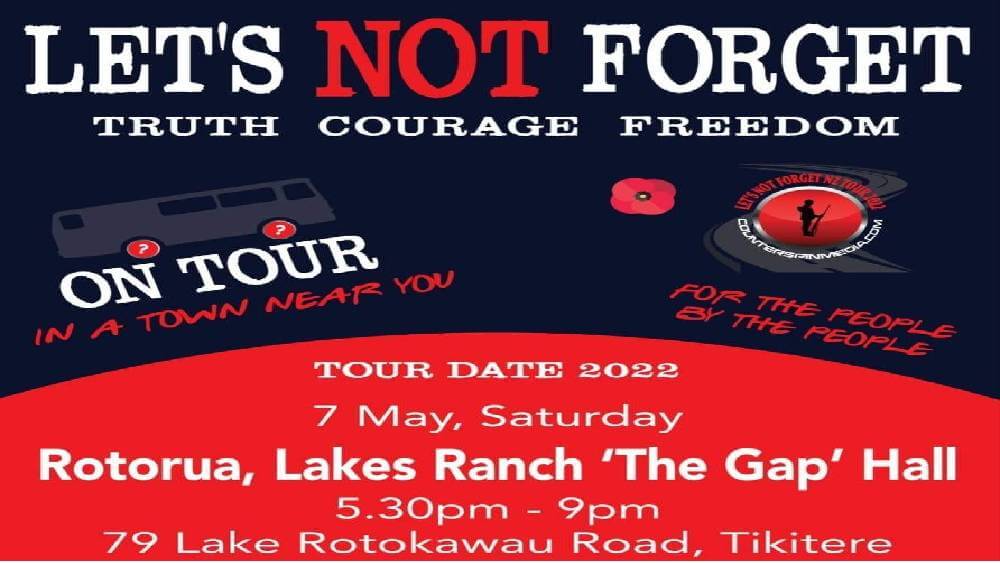 LETS NOT FORGET TOUR – Rotorua 7th May
COUNTERSPIN MEDIA will be in ROTORUA tonight, on it's  "LET'S NOT FORGET" NZ  NATIONWIDE TOUR
LAKE RANCH, ROTORUA
5.30pm – 9pm
79 Lake Rotokawau Road, Ōwhata, Rotorua 3074
Camping/dorms available & hot pools on site for after the talks.
Speakers tonight include:
Brad Flutey, from Horus Media will MC again.
Mark Worthington, NZ's top oural surgeon speaks out about his recent termination due to mandates.
Kirsten Miller a mandated nurse will speak about her job loss & new business making candles.
Unite NZ leader Ruth will share her experience with their recent campaign in Wellington.
The mic & story bunting will be available for everyone to share their stories from Wellington, freedom loses & community solutions.
And of course, if you have a story for the documentary we can film that too.
The location "Lakes Ranch" is set in a beautiful location, on the outskirts of Rotorua.
We hope you can join us from 5.30pm or come earlier if you'd like to record a story for the covid casualties documentary.
Bring a plate. Bring your togs for a hot pool. Bring camping gear if you'd like to stay.
ROTORUA COME AND RELAX
You are welcome to camp tonight and spend the day relaxing if you wish, dorm beds also available.
It's a gorgeous location.
Donations can be made via the following link www.counterspinmedia.com/donate
We shall see you all soon!
For more information and to share your stories,
Contact Us OR [email protected]
Full "LET'S NOT FORGET" NZ  NATIONWIDE TOUR Dates