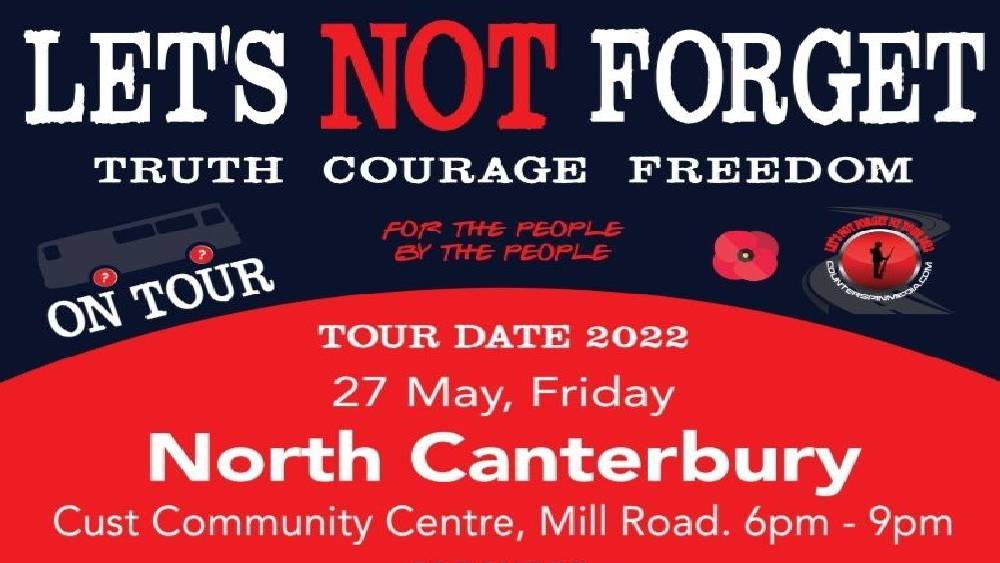 LETS NOT FORGET TOUR – North Canterbury 27th May
COUNTERSPIN MEDIA will be in NORTH CANTERBURY tonight, on it's  "LET'S NOT FORGET" NZ  NATIONWIDE TOUR
The location "Cust Community Centre" 6pm ~ 9pm
Location Mill Road
Fun, food, live music and a diverse line up of speakers on issues facing communities across New Zealand.
Bring cash if you would like to donate to Counterspin Media
Merchandise available
Bring a plate to share and a friend.
Storm the tour bus will be on display & available to record your stories for the Covid Casualties documentary ~ 3pm.
Speakers include:
Pastor Carl Bromley from 'Is It Just Me?'
Lee Williams from 'Cross the Rubicon'
Joe Holland from NZTSOS
Vicki, a former nurse & vaccinator
Franny, a local physiotherapist
Minette, food security and herb expert
We are covering a wide range of topics, it will be a thoroughly interesting and engaging evening.
Live professional music from Seb Warren and maybe a special guest…
We shall see you all soon!
For more information and to share your stories,
Contact Us OR [email protected]
Full "LET'S NOT FORGET" NZ  NATIONWIDE TOUR Dates