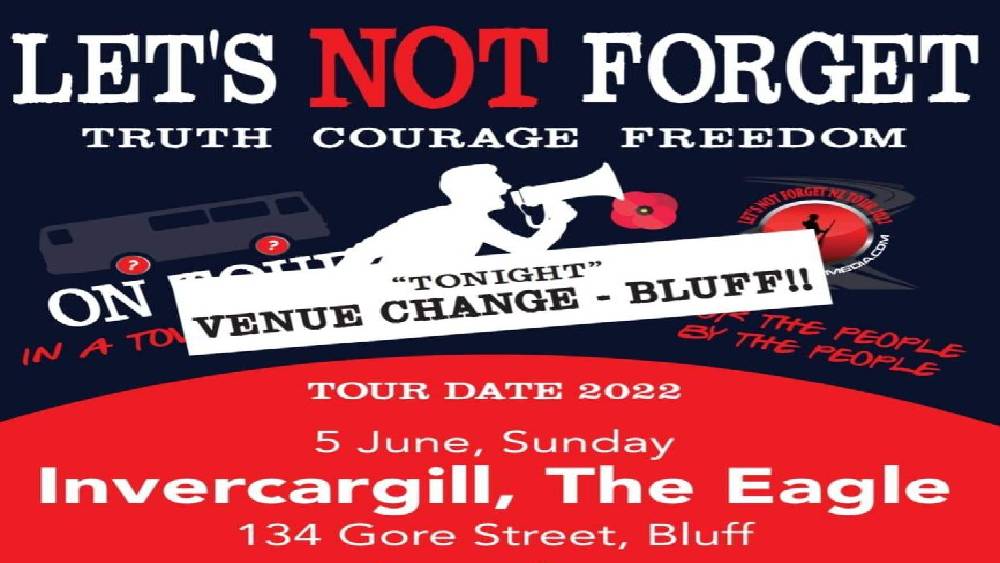 LETS NOT FORGET TOUR – Invercargill 5th June
COUNTERSPIN MEDIA will be in INVERCARGILL today, on it's  "LET'S NOT FORGET" NZ  NATIONWIDE TOUR
The location "The Eagle" 6pm ~ 9pm
Food and nibbles provided.
Come and join us tonight and support the great guys at the Eagle Pub who care about our freedom!
134 Gore Street, Bluff
Note this new location is about 20 minute drive south of Invercargill in Bluff on Highway 1
Bring cash if you would like to donate to Counterspin Media
Merchandise available
"Storm" the tour bus will be on display & available to record your stories for the Covid Casualties documentary.
Speakers include:
Geoff the Bee Man will discuss cancel culture and his trip to Picton, Wellington and his pro choice market.
Dana Lee is a mother of three. She has a passion for truth and has git involved with ending lockdown back in Mid 2020. She is dedicated to bringing true freedom for all. She sees through the lies of cultural Marxism and the conditioning of victim mentalities.
She's the most courageous woman
Rob Wilson from the New Nation Party speaking on where we are at as a country, where we are headed and what is being done by some to stop the globalist takeover of our land.
Gill Booth is a wife, mother, Freedom Fighter.
She will discuss the Road to Recovery is through Local Government.
Jaspreet Boparai is a rural mum, wife and a geek who's had an interest in all things farming, United Nations and Local Government. An ex-mortgage underwriter who worked with some of India's largest private sector banks, she moved to New Zealand in 2009 with husband.
Stevey Chernishov
Entrepreneur, Activator of Ideas, Registered Teacher.
Graduated three times at the University of Otago, focusing on visual arts, education & social research methods.
To build a brand with products that inspires people to see their true identity & shows them how to build a better world.
Open Mic
We are covering a wide range of topics, it will be a thoroughly interesting and engaging evening.
Donations can be made via the following link www.counterspinmedia.com/donate
We shall see you all soon!
For more information and to share your stories,
Contact Us OR [email protected]
Full "LET'S NOT FORGET" NZ  NATIONWIDE TOUR Events