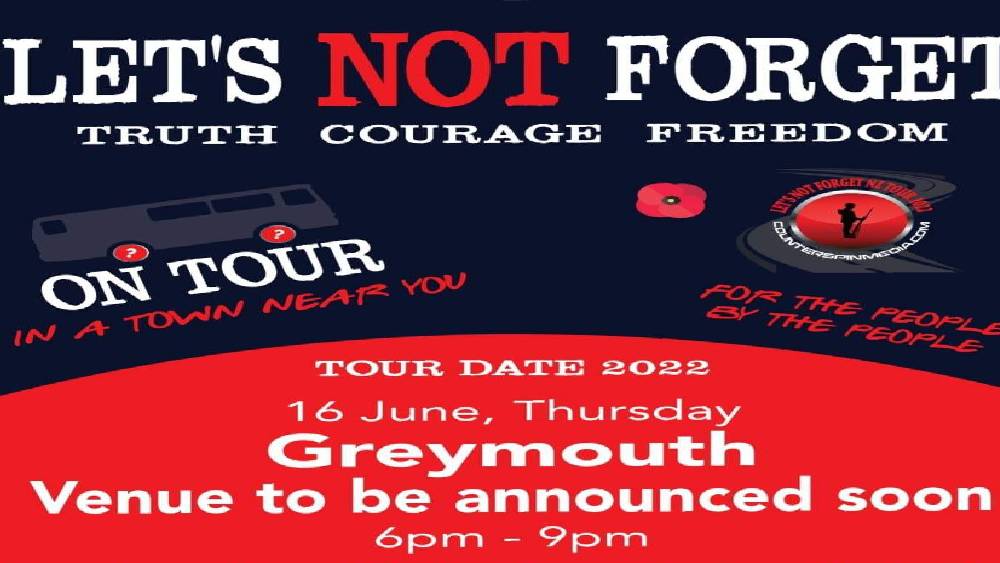 LETS NOT FORGET TOUR – Greymouth 16th June
COUNTERSPIN MEDIA will be in GREYMOUTH today, on it's  "LET'S NOT FORGET" NZ  NATIONWIDE TOUR
The location: "Greymouth RSA"  6 ~ 9pm
Bring cash for the raffle or if you would like to donate to Counterspin Media
Please bring a plate
Merchandise available
"Storm" the tour bus will be on display & available to record your stories for the Covid Casualties documentary.
Speakers include:
Heather-Meri Pennycook – In 2020 Heather stood for the NZPP party in the general election. Since then she has been speaking out about the U.N Agendas and offers workshops on Living Law as a solution.
Philip Paterson – A long time 1080 activist discusses the history of the anti-1080 movement & the damage this poison is causing in NZ.
Kath Lane from Hari Hari who will talk about the proposed Waitaha power scheme & current DOC stewardship land currently undergoing reclassification.
The mic will be open to locals to share their views & stories.
We are covering a wide range of topics, it will be a thoroughly interesting and engaging evening.
Donations can be made via the following link www.counterspinmedia.com/donate
We shall see you all soon!
For more information and to share your stories,
Contact Us OR [email protected]
Full "LET'S NOT FORGET" NZ  NATIONWIDE TOUR Events