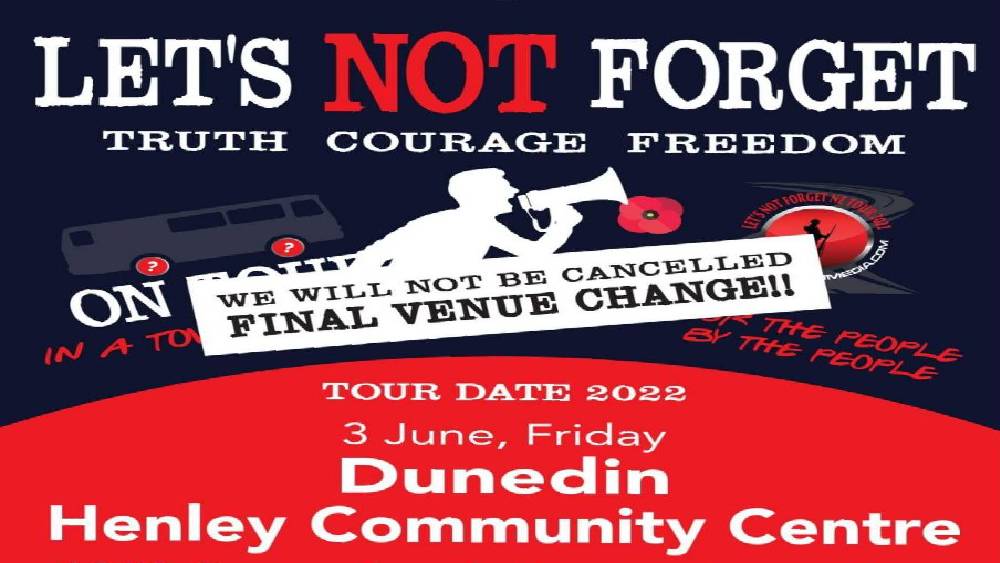 LETS NOT FORGET TOUR – Dunedin 3rd June
COUNTERSPIN MEDIA will be in DUNEDIN today, on it's  "LET'S NOT FORGET" NZ  NATIONWIDE TOUR
Venue Change : HENLEY COMMUNITY CENTRE   6pm ~ 9pm
Note this new location is about 30 minutes drive south of Dunedin on Highway 1.
Some entertainment for you!
The pathetic losers were changing their daipers again today, trying to cancel tonight's venue, in a feeble attempt to control and restrict you the good people of New Zealand from hearing and seeing the real facts and evidence brought to you by Counterspin Media.
Terrified of openminded people in their local area meeting to join together, to network like many other thousands of motivated and informed people all around this great country of ours New Zealand.
The bent spineless losers have nothing. Only hollow false narratives precariously propped up by lies and deceipt.
And of course their little pile of soiled daipers and also smaller ones to covering their noses in the hope they are OK in their little safe space!
The storm of Counterspin Media for the people by the people continues in it's juggernaut trajectory as good continues to crush evil always.
Bring cash if you would like to donate to Counterspin Media
Merchandise available
"Storm" the tour bus will be on display & available to record your stories for the Covid Casualties documentary.
Speakers include:
Farmer James – speaking on farming, Wellington & police harassment
Gill Booth – speaking on U.N Agenda
Heather-Meri Pennycook (Ag Action Gatherings) – solutions & living law
Steve Lawton – An overview of the world system of bondage
Dana Lee – on Maoridom & cancel culture
Open Mic
We are covering a wide range of topics, it will be a thoroughly interesting and engaging evening.
Donations can be made via the following link www.counterspinmedia.com/donate
We shall see you all soon!
For more information and to share your stories,
Contact Us OR [email protected]
Full "LET'S NOT FORGET" NZ  NATIONWIDE TOUR Events