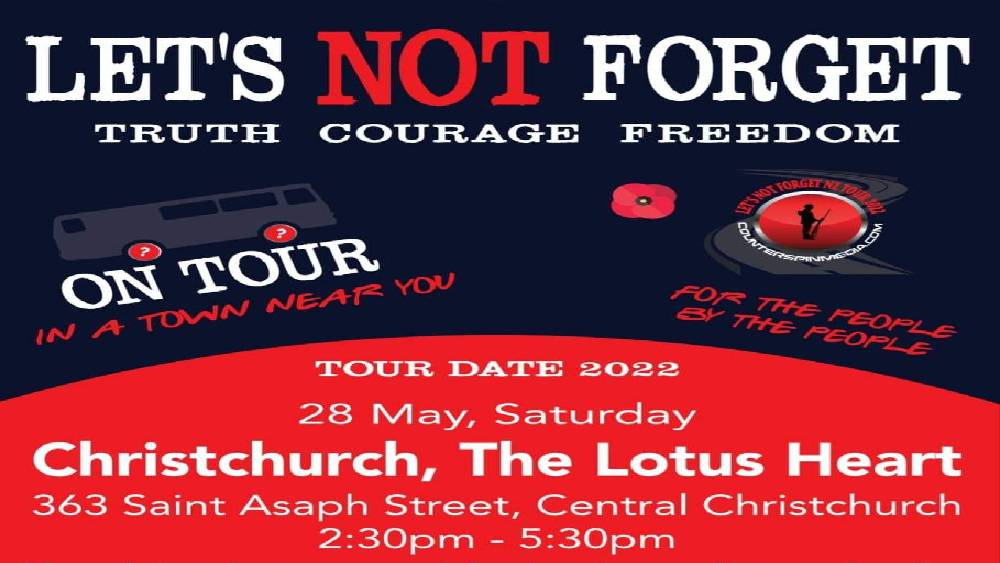 LETS NOT FORGET TOUR – Christchurch 28th May
COUNTERSPIN MEDIA will be in CHRISTCHURCH today, on it's  "LET'S NOT FORGET" NZ  NATIONWIDE TOUR
The location "The Lotus Heart" 2:30pm ~ 5:30pm
Location 363 Saint Asaph Street
Bring cash if you would like to donate to Counterspin Media
Merchandise available
Booking preferred:  http://www.thelotusheart.co.nz/special-events
"Storm" the tour bus will be on display & available to record your stories for the Covid Casualties documentary.
Speakers include:
Ross Hebblethwaite – "I Wonder Where This Is Taking Us?" Realizing what is possible in the face of what seems planned.
Tracy Power – Parallel economy, bringing merchants & buyers together in the community to trade/exchange & thrive in the future.
Lee Williams from Cross the Rubicon
Pastor Carl Bromley (Mayoral Candidate) from Is It Just Me Nz?
And a special treat:
Yulia – An internationally acclaimed Singer, who will be accompanied by Hanafi Machirus, accomplished jazz guitarist & Tomas Hurnik an Associate Principal Cellist of Christchurch Symphony.
Yulia will sing 4 well known songs by Edith Piaf, plus "Everything Must Change" by Nina Simone & "Where have all the Flowers gone?" by Pete Seeger.
We are covering a wide range of topics, it will be a thoroughly interesting and engaging evening.
Donations can be made via the following link www.counterspinmedia.com/donate
We shall see you all soon!
For more information and to share your stories,
Contact Us OR [email protected]
Full "LET'S NOT FORGET" NZ  NATIONWIDE TOUR Events