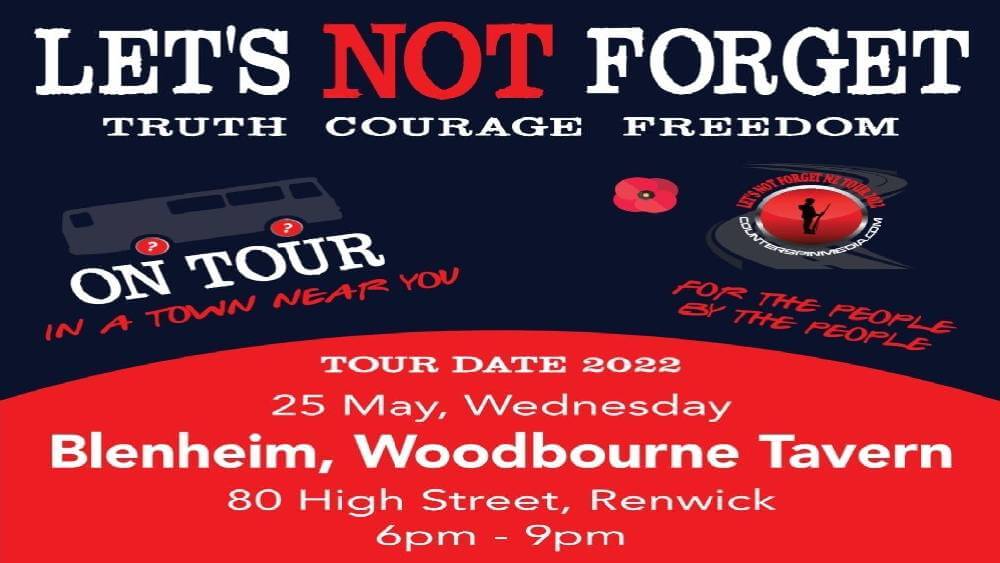 LETS NOT FORGET TOUR – Blenheim 25th May
COUNTERSPIN MEDIA will be in BLENHEIM tonight, on it's  "LET'S NOT FORGET" NZ  NATIONWIDE TOUR
The location "Woodbourne Tavern" 6pm ~ 9pm
Location 80 High Street – Renwick/Woodbourne
Bring cash if you would like to donate to Counterspin Media
Merchandise available
3pm Bus is expected to be available for filming of stories for the Covid Casualties documentary
Speakers tonight include:
Rachel Ruby will MC and talk of her Wellington arrest.
Semi-retired dentist Dr Fred Timmermans shares his experience under covid-19 & his future plans.
Tina & other locals will highlight local happenings in Blenheim.
Simi shares the adverse reaction her baby suffered after a routine vaccine.
Richie will share his thoughts on the problems & solutions.
Donations can be made via the following link www.counterspinmedia.com/donate
We shall see you all soon!
For more information and to share your stories,
Contact Us OR [email protected]
Full "LET'S NOT FORGET" NZ  NATIONWIDE TOUR Dates