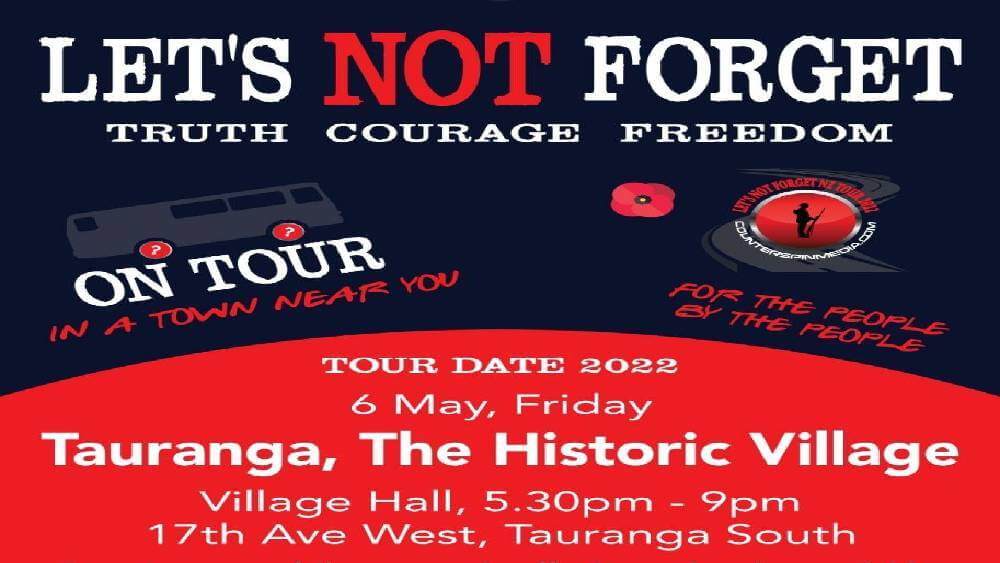 LETS NOT FORGET TOUR – Tauranga 6th May
COUNTERSPIN MEDIA will be in TAURANGA tonight, on it's  "LET'S NOT FORGET" NZ  NATIONWIDE TOUR
CHECK OUT THE AMAZING LINE UP!
We can't wait to meet you outside the venue from 3pm to film your stories.
An exciting surprise, all things going well!
Food vendors – hot, cold, sweet, savoury, serving between 5pm to 7pm.
Speeches will kick off in The Village Hall at 7pm.
MC- Brad Flutey
Aly Cook will play her hit, Little White Crosses.
Sue Grey – Environmental Lawyer and co-leader of the Outdoors & Freedom Party on current issues & her candidacy in the Tauranga by-election.
Shayna Gaskell – 'Welcome Freedom Markets' founder will discuss new era trading.
Justine Laidlaw – Integrative functional medicine cancer coach.
Dr Mike Godfrey – 23 years in mainstream medicine and a further 36 years in integrative holistic environmental medicine.
Andrew Hollis – New Nation Party, will discuss the impact of the removal of rights & the creation of a two class society.
Donations can be made via the following link www.counterspinmedia.com/donate
We shall see you all soon!
For more information and to share your stories,
Contact Us OR [email protected]
Full "LET'S NOT FORGET" NZ  NATIONWIDE TOUR Dates