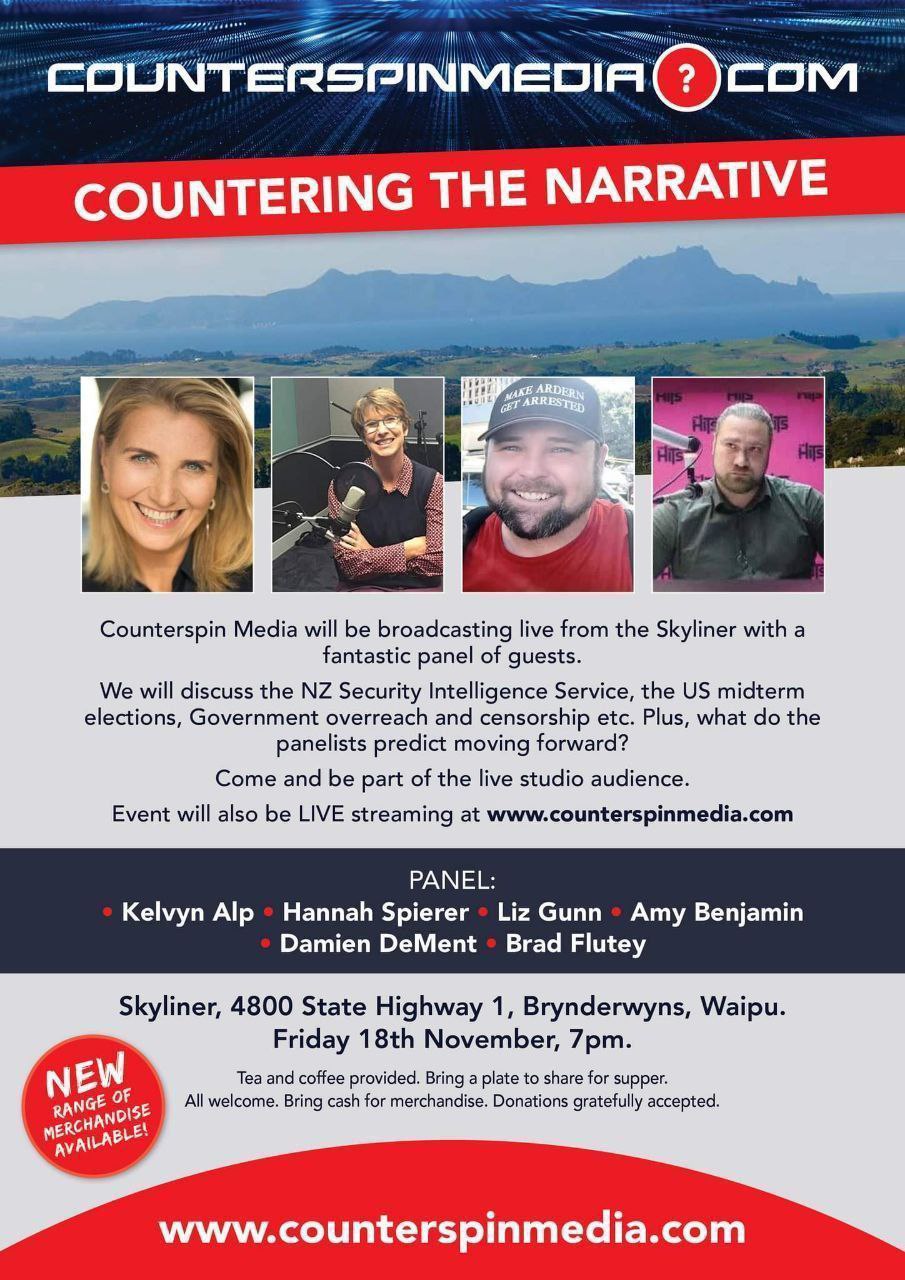 Update #013 CSM EVENT THIS FRIDAY
Countering The Narrative
This Friday, Counterspin Media will be broadcasting live from The Skyliner with a fantastic panel of guests:
Kelvyn Alp [Counterspin Media]
Hannah Spierer [Counterspin Media]
Amy Benjamin [The American Spirit]
https://rumble.com/c/c-1057344

Liz Gunn [FreeNZ]
https://www.facebook.com/FreeNZMedia

Damien DeMent [Counterspin Media]
https://t.me/DamienDeMent

Brad Flutey [Horus Media]
https://t.me/HorusMediaPayAttention

We will discuss the NZ Security Intelligence Service, the US midterm elections, Government overreach and censorship.
Plus, what do the panellists predict moving forward?
Come and be part of the live studio audience but if you can't make it the event will also be LIVE streaming at www.counterspinmedia.com
Friday 18th November
Doors open 6.30pm, start 7pm
SKYLINER
4800 State Highway 1
Brynderwyns
Waipu
Tea and coffee will be provided. Bring a plate for supper to share. All welcome!
New merchandise range available.
Cash donations gratefully accepted!
Just turn up, no booking required.
SELFIE WITH A SIGN COMPETITION!
We have new signage available for your fence, protest or your favourite place.
If you make a $50 donation, we will send you the design of your choice.
See this flyer below for the seven different designs.
Please email [email protected] for more information.
BILLBOARD COMPETITION
There has been so much success and interest in our moving billboard with the phrase "Release the Unredacted Pfizer Contract." This has inspired our billboard competition. We also have artwork available for anyone who wants to put a billboard up. Email [email protected] for the file.
If you want to design your own work, it needs to be clean & relevant and a minimum size of 2m x 1.5m. Send us a photo of your billboard and we will pick a winner by the end of summer!
DON'T FORGET TO JOIN OUR TELEGRAM CHANNEL HERE TO KEEP UP TO DATE WITH DAILY POSTS
❓Counterspin
NZs Media Revolution
Facts & Evidence based
Not a pay to say platform
www.counterspinmedia.com
Monday - November 14, 2022
Leave a Comment
This Feature Coming Soon!