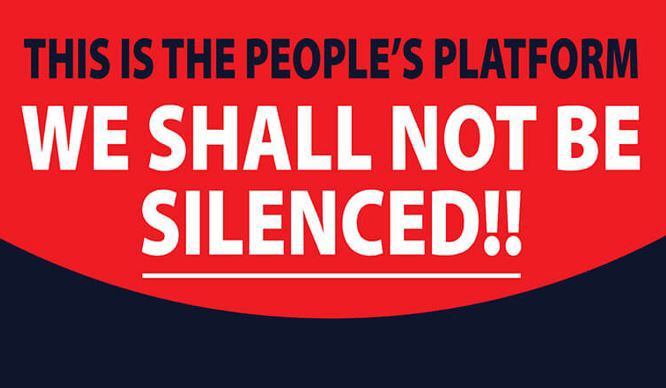 Update #003 WE SHALL NOT BE SILENCED!!
To all Counterspin Media Supporters:
We thank you for your patience. Issues around our email server are now being worked on and will be resolved shortly.
Many of you will be aware that Hannah Spierer and Kelvyn Alp were arrested on the morning of Thursday 25 August 2022 charged with allegations relating to 'objectionable material'.
The alleged offence; a link to an offshore site containing part of a documentary investigation into the "Christchurch Massacre" shared on 'Telegram'. All electronics including production equipment, mobile phones, drives and computers were seized. Please see linked 'Press Release' for the full statement.
Kelvyn and Hannah are due to appear in the Christchurch District Court, 20 Litchfield St, Christchurch Central, Wednesday 31st August 2022 from 8am onwards.
The Peoples Platform shall not be silenced.
Wanting to know how you can help?
Join us at www.counterspinmedia.com
Show your support by being there on the day to watch history being made
Share this far and wide
The team need your support by being there in person from 8am this Wednesday, to watch history being made.
They want your voice shutdown. We won't allow that to happen. As a result they want us gone.
Crypto wallets are being worked on and will form part of the website soon enough. The team require their production equipment returned by the Police, to continue working for you, the people.
Please bear with the team of volunteers holding this together whilst they diligently work together to assist Kelvyn and Hannah to keep their platform running for you, the people.
Continue to support Counterspin Media on Telegram chat, Facebook, Rumble, and GETTR, however please be mindful of the access to media restrictions placed upon Kelvyn and Hannah by the NZ Police.
This will be resolved soon enough.
Regards,
CSM Admin Team
——-
Donations help fund our aim and are most welcome.
One off or recurring donations are all greatly appreciated.
Our Bank Account Details:
Counterspin Media
12-3032-0192290-000
——-
THANK YOU SO MUCH FOR BEING PART OF EVERYTHING WE DO.
Leave a Comment
This Feature Coming Soon!