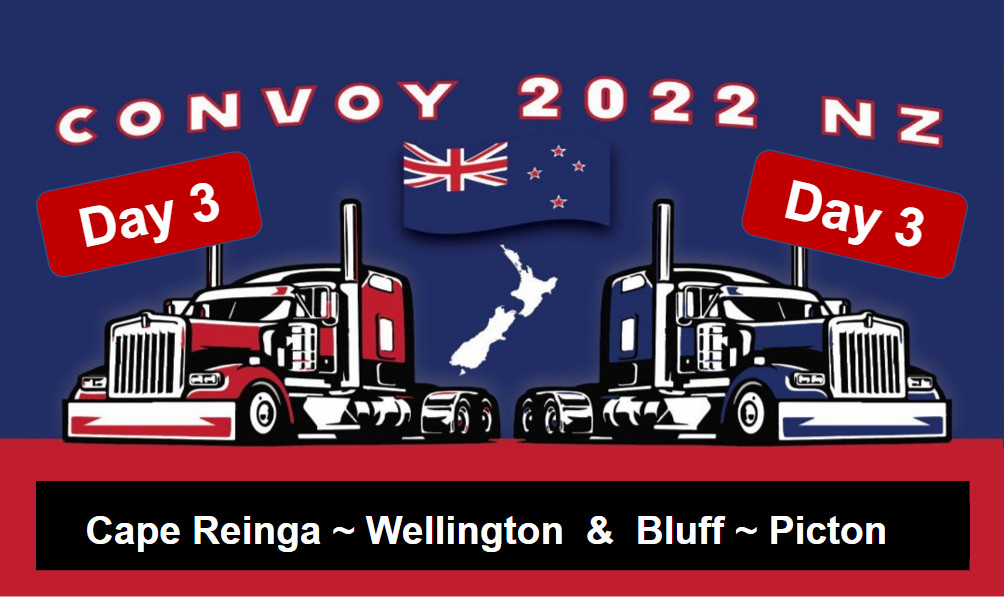 Convoy 2022 NZ – Day 3
FREEDOM loving New Zealanders have had enough of a tyrannical rogue government hijacking their beautiful country and attempting to destroy their lives and deceptively force serious harm to their children and grandchildren.
While the rogue New Zealand government continues to charge irrationally, hell bent in the opposite direction of many of the wise countries of the world,
Kiwis from all walks of life, are rising up and joining together, as a united front to stop this evil force driven by powerful offshore interests.
As this war plays out, those responsible for causing harm to others, will be held to account, with nowhere to hide. The path of the money that funded this evil deception on a grand scale is already being exposed as the narrative of propaganda pushed by the tax funded Main Stream Media continues to fall apart at an exponential rate.
On Sunday 7th February, the Convoy 2022 NZ started it's journey from Cape Reinga in the far north on it's way to Wellington, and from Bluff in the deep south, on it's way to Picton.
Kiwis turned out in their thousands, along the route and crowding bridges, many with standing room only as they waved their New Zealand flags and cheered the convoy on, in support and encouragement.
The convoy is over 50km in length in two parts now, with estimates of 1,500 ~ 2,000 vehicles.
Generous amounts of Food and Drinks have been donated with pride and enthusiasm by many, doing their part in this crusade together.
The North Island Convoy rested in Palmerston North overnight before continuing on in their journey today.
And the South Island Convoy rested in Picton overnight with some continuing on in their journey today too.
The Convoy will arrive at Parliament in Wellington Tuesday late morning 8th.
LIVE stream coverage and replays of the journey can be viewed from our homepage: https://counterspinmedia.com/
REPLAYS of coverage of the journey can be viewed on our recent live streams page: https://counterspinmedia.com/blog/resources/recent-live-streams/
Tuesday - February 8, 2022
Leave a Comment
This Feature Coming Soon!