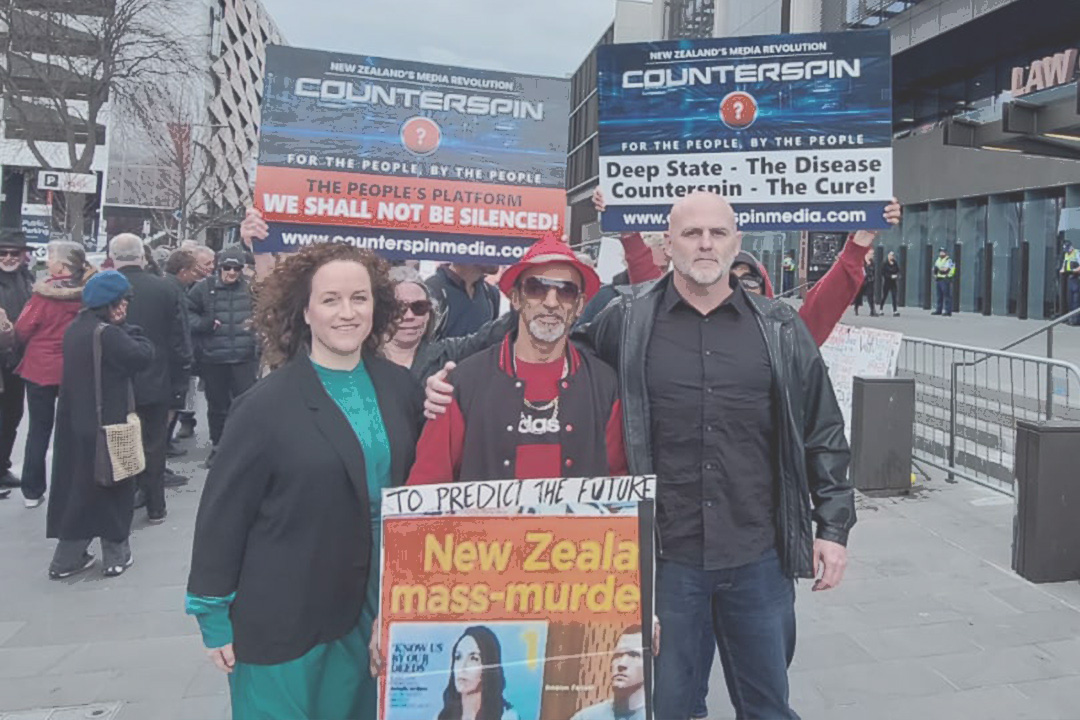 Update #008 WATCH COUNTERSPIN MEDIA HOSTS IN COURT: DAY 2
Executive Producers and Hosts of 'Facts and Evidence' based platform 'Counterspin Media' Kelvyn Alp and Hannah Spierer addressed the crowd that came out in support this morning outside the Christchurch Justice Precinct.
KELVYN ALP, facing 2 charges, each with a penalty of 14 years and fines of $200,000 among others.
HANNAH SPIERER, facing 1 charge with a penalty of 14 years and a fine of $200,000 among others.
KELVYN and HANNAH are jointly charged with allegedly distributing a link to an investigative documentary on the 22nd February, deemed an objectionable publication under the Films, Videos and Publications Classifications Act 1993 on the 25th of February this year, after being noticed by a department of New Zealand's Internal Affairs, on the 23rd.
KELVYN has also been charged individually with distributing the documentary and both he and HANNAH are charged with failing to provide a reasonable excuse to assist a person exercising a search power when requested to do so under Section 130(1) of the Search and Surveillance Act 2012 on the 25th August.
A trial by Jury has been elected.
We shall bring you further updates as the situation develops.
This speech was given today in Christchurch by Omar Nabi whose father was killed on March 15, 2019, in the Christchurch mosque attacks.
Click here to view.
Today, September 21st 2022, while counter protesting Counterspin Media, antifa snubbed Omar.
Why would they snub a Muslim they claim to be standing for, or does his view not fit their narrative?
Is there an inconvenient truth they wish to ignore?
For more information read this article.
Tokelau Update from our friends at FREE NZ MEDIA:
"After over a year of brutal lockdown, our brilliant Tokelau legal team informed the island leadership today that unless the family were released by a set time, court papers would be filed."
For more info, click here.
ARRESTED, BAILED, FACING 42 YEARS IMPRISONMENT, $600K in FINES for SHARING "FACTS & EVIDENCE"
Samantha Edwards, the New Zealand Correspondent for Australian Free Independent Press Network (AFIPN), Interviews Hannah Spierer & Kelvyn Alp.
View interview here.
Join us, show your support and share this update far and wide.
Check out our blog, Telegram, GETTR, Facebook and join our Telegram Chat!
—
Donations help fund our aim and are most welcome.
One off or recurring donations are all greatly appreciated.
Shout us a Coffee ☕
Our Bank Account Details:
ASB
Counterspin Media
12-3032-0192290-000
Crypto options are now available via our website
(Contact us to recommend other crypto options)
—
🔄 Counterspin
NZs Media Revolution
Facts & Evidence based
Not a pay to say platform
www.counterspinmedia.com
Wednesday - September 21, 2022
Leave a Comment
This Feature Coming Soon!