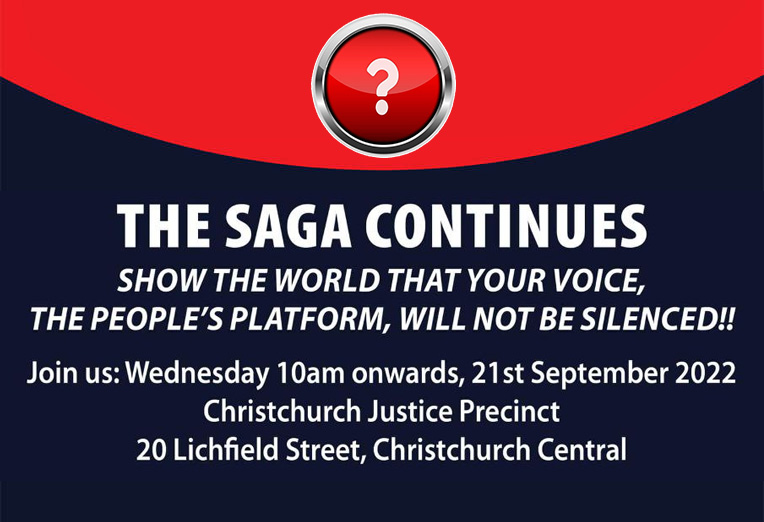 Update #007 THE SAGA CONTINUES
Next special appearance at the Christchurch Justice Precinct for Kelvyn and Hannah is this Wednesday September 21st from 10am
Kelvyn and Hannah gave up everything to give you a voice, to defend your right to free speech, your right to ask questions, your right to body autonomy, your right to medical freedom, your right to live freely.
Let's show them that as a nation we support them and we shall not be silenced.
Bring your friends, family, associates together and come down to Christchurch to support your facts and evidence based platform Counterspin Media.
Truth, Courage and Freedom will prevail!!!
Wednesday 10am, 21 September 2022
Christchurch Justice Precinct
20 Lichfield Street
Christchurch Central
SACHA STONE INTERVIEWS COUNTERSPIN MEDIA'S HANNAH & KELVYN
Arise Guerrilla News – 04/09/22
Watch or listen to the interview here.
"WHEN WE STAND ON THE FRONTLINE, WE TAKE THE HITS FOR OUR FUTURE GENERATIONS" – Kelvyn Alp & Hannah Spierer
—
WOULD the CONSEQUENCES of "REPRODUCTIVE TOXICITY" be DEPOPULATION?
1. mRNA vaccine ingredients can be transferred from one person to another via skin-to-skin contact, inhalation and via "sexual intercourse," through bodily fluids.
2. Pfizer did not test "male reproductive toxicity".
3. Pfizer also did not test for adverse effects from vaccinated men's semen, on the development of their offspring.
4. mRNA vaccine ingredients travel throughout the body and gather in organs, including in the testes.
5. mRNA vaccines cause a staggering drop in semen concentration and total motile count.
Read the full article loaded with facts & evidence here.
—
MAINSTREAM MEDIA, BIG PHARMA & ALL GOVTS "YOU ARE UP FIRST.
Dr. Bhakdi is one of the most cited research scientists in German history, former professor at the Johannes Gutenberg University in Mainz and head of the Institute for Medical Microbiology and Hygiene, with expertise in vaccinations.
"Gene-based vaccines are an absolute danger to mankind and their use at present violates the Nuremberg code, such that everyone who is propagating their use should be put before tribunal."
Read the full article at The Herland Report
—
JUDGE GIVES FAUCI 21 DAYS to TURN OVER EMAILS with SOCIAL MEDIA GIANTS
A federal judge on Tuesday ordered top-ranking Biden administration officials — including Dr. Anthony Fauci and White House Press Secretary Karine Jean-Pierre — to hand over their communications with five social media giants within 21 days.
The ruling stems from a lawsuit filed earlier this year by Missouri Attorney General Eric Schmitt and Louisiana Attorney General Jeffrey Landry alleging the Biden administration colluded with Big Tech firms Twitter, Meta (Facebook's parent company), YouTube, Instagram and LinkedIn to censor certain viewpoints under the guise of preventing the circulation of "misinformation" or "disinformation."
U.S. District Judge Terry Doughty in July ordered the Biden administration to swiftly produce records requested by the plaintiffs as part of the discovery process.
Read the full article here.
Join us, show your support and share this update far and wide.
Check out our blog, Telegram, GETTR, Facebook and join our Telegram Chat!
—
Donations help fund our aim and are most welcome.
One off or recurring donations are all greatly appreciated.
Shout us a Coffee ☕
Our Bank Account Details:
ASB
Counterspin Media
12-3032-0192290-000
Crypto options are now available via our website
(Contact us to recommend other crypto options)
—
🔄 Counterspin
NZs Media Revolution
Facts & Evidence based
Not a pay to say platform
www.counterspinmedia.com
Sunday - September 18, 2022
Leave a Comment
This Feature Coming Soon!