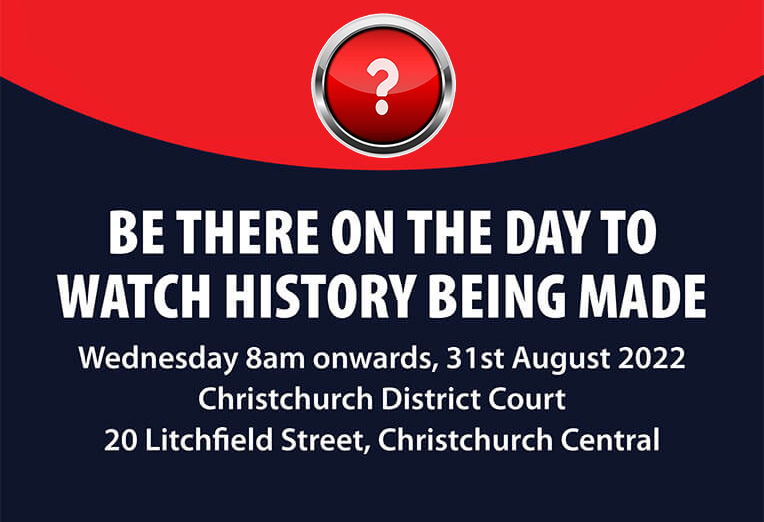 Update #004 WITNESS HISTORY IN THE MAKING
WITNESS HISTORY IN THE MAKING
Executive Producers and Hosts of 'Counterspin Media' Kelvyn Alp and Hannah Spierer were arrested on Thursday 25th August 2022 and charged with allegations relating to 'objectionable' material.
The alleged offense; a link to an offshore site containing parts of a documentary investigation into the "Christchurch Massacre" shared on 'Telegram'. All electronics including production equipment, mobile phones, drives and computers were seized.
It seems the state via its Chief Censor, believes it's the sole arbiter of what information people have access to. Kelvyn and Hannah reject these allegations. 'Counterspin Media' hold the steadfast belief that the people are the highest authority on this land and as such are not subject to restrictions in anyway, save physical harm being caused and a victim created.
Thus this coming Wednesday, the 31st of August we here at 'Counterspin Media' ask that you, our loyal supporters gather outside the Christchurch District Court from 8am to stand in solidarity with Kelvyn and Hannah and all that our platform represents.
'Counterspin Media' will be livestreaming outside the Christchurch District Court from 8:30am on Wednesday morning. Find the live link tomorrow via www.counterspinmedia.com
Join us, show your support and share this update far and wide.
https://t.me/counterspinmediachat
https://gettr.com/user/counterspin
https://www.facebook.com/counterspinmedia1
——-
Donations help fund our aim and are most welcome.
One off or recurring donations are all greatly appreciated.
Our Bank Account Details:
ASB
Counterspin Media
12-3032-0192290-000
Bitcoin address now available: bc1qkgnwwmul6yv9fs0fmzgmxmxwk8m9dfl8j92wmz
(contact [email protected] to recommend other crypto options)
——-
🔄 Counterspin
NZs Media Revolution
Facts & Evidence based
Not a pay to say platform
www.counterspinmedia.com
Tuesday - August 30, 2022
Leave a Comment
This Feature Coming Soon!