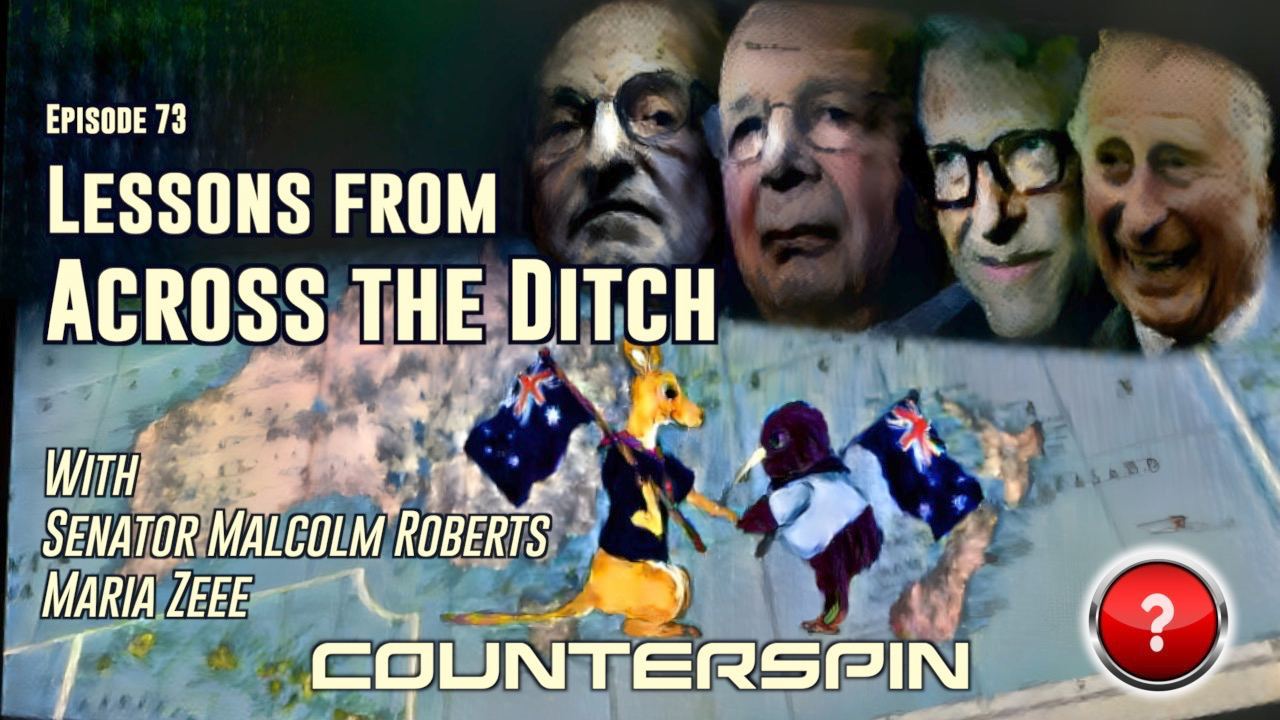 Update #002 Lessons From Across The Ditch
LIVE STREAM Monday, 22nd Aug 2022
View – Livestream Coverage from ~ 6:45PM: www.counterspinmedia.com
LIVE STREAM TONIGHT 6:45PM 
Share far and wide.
Greetings Counterspin Media Community,
This is a quick update message.
WE ARE WINNING!
As many of you will already be aware, it's been a HUGE week for the freedom movement in New Zealand with Stuff Circuit releasing an attempted hit piece Fire & Fury on Sunday August 14, against those they consider to be the primary disinformation agents in NZ, which included Counterspin Media, and is available here.
( https://interactives.stuff.co.nz/2022/08/circuit/fire-and-fury-disinformation-in-new-zealand/ )
TONIGHT: MONDAY, AUGUST 22 (Episode 73). 
Tonight we will go LIVE at an earlier time of 6.45pm with episode 73 Lessons from Across the Ditch featuring a LIVE interview with AUSTRALIAN SENATOR MALCOLM ROBERTS and from Zee Media, MARIA.
Episode 71: Counterspin did an emergency response broadcast on the same day with some of those featuring in this "fizzle & flop" documentary, Damien De Ment (Counterspin Media Contributor), Amy Benjamin (former AUT Law lecturer), Carlene Hereora (Save Our Children NZ), Kyle Chapman (Voice of Freedom), available here
( https://counterspinmedia.com/blog/resources-videos/episode-71-stuffs-fire-and-fury-deep-state-hit-piece-misfires/ )
Episode 72: Counterspin featured three experts, Steve Evans – Families for Justice, Dr Cindy DeVlliers – NZDSOS, Dr Guy Hatchard – The Hatchard Report, that Stuff's Paula Penfold chose to ignore for her hit piece, who offer an understanding to why thousands of concerned kiwis turned up in Wellington earlier this year. ( https://counterspinmedia.com/blog/resources-videos/episode-72-stuffs-fire-and-futy-the-aftermath-experts-speak-out/ )
The Platform host Michael Laws invited Kelvyn on as a result of this MSM propaganda piece being released. Kelvyn held his own against one of the toughest hosts in talkback radio, available here. (https://www.youtube.com/watch?v=GfbJ-z9N1SE )
WELLINGTON: THIS TUESDAY, AUGUST 23.
CSM will be going LIVE to cover The Freedom & Rights Coalition event outside Parliament. They will hold The People's Court, where the NZ Government will stand trial with the accusations of crimes against humanity. The NZ public is invited to be part of the jury to pass judgement.
LIVE stream will be available here: www.counterspinmedia.com
For more information from TFRC see their website www.tfrc.org.nz
YOUR SUPPORT NEEDED! 
Finally, if you want to support our push back against MSM propaganda and Government disinformation please consider making a donation here to support our growing team. This is a platform by the people for the people and we can't do this without YOUR HELP!
https://counterspinmedia.com/donate/
MERCH IN WELLINGTON
We have limited merchandise left but if you'd like to get your hands on a hoodie or a t-shirt, please email merch @counterspinmedia.com or look out for our girls in Wellington tomorrow.
Thanks to all of you who have donated and shared our content and we look forward to hanging out with you in Wellington tomorrow!
Kelvyn, Hannah and the Counterspin Team.
p.s
Also put on your radar the newly released "River of Freedom" trailer of the feature documentary currently in production. Fellow truth content creators are working on a film about the Convoy NZ and the Parliament Protest. It tells the story of who the people are, why they were protesting, and what happened during this historic event. Trailer available here: ( https://www.youtube.com/watch?v=8t0k5YCjhAk&ab_channel=RiverOfFreedom-Documentary)
View – Livestream Coverage from 6:45pm: www.counterspinmedia.com
Donations can also be made via the following link www.counterspinmedia.com/donate
For more information and to share your stories,
Contact Us OR [email protected]
View – Livestream Coverage from 6:45pm: www.counterspinmedia.com
Missed one of our earlier Livestreams?
View Replays of our Livestreams
Sign Up, to receive important Updates/Information and notifications whenever we go LIVE at Counterspin Media.
Share our message
Please consider forwarding this email on to share with a friend.
Your friend can Sign Up, if they wish to receive important Updates/Information to their inbox.
(An unsubscribe link is also included in the footer of every email we send out)
Your Comments & Feedback are most welcome.
Thank You
Counterspin Media
Leave a Comment
This Feature Coming Soon!