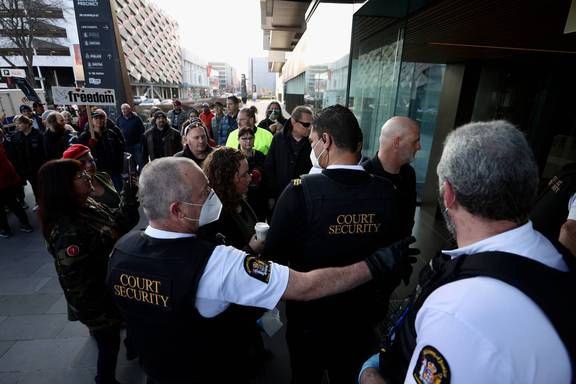 CHRISTCHURCH SUMMARY POST SPECIAL APPEARANCE, NOT GENERAL APPEARANCE, AS NON RESIDENT SETTLORS FOR THE DEFENDANTS
31 August 2022
Executive Producers and Hosts of Facts and Evidence based platform 'Counterspin Media' Kelvyn Alp and Hannah Spierer made a special appearance this morning at the Christchurch Justice Precinct.
KELVYN ALP, facing 2 charges with a penalty of 14 years and fines of $200,000 each.
HANNAH SPIERER, facing a charge with a penalty of 14 years and a fine of $200,000.
They have been released on bail and are both due back in court on September 21st at 10am.
KELVYN and HANNAH are jointly charged with allegedly distributing a link to an investigative documentary on the 22nd February, deemed an objectionable publication under the Films, Videos and Publications Classifications Act 1993 on the 23rd of February this year.
KELVYN has also been charged individually with distributing the documentary and both he and HANNAH are charged with failing to provide a reasonable excuse to assist a person exercising a search power when requested to do so under Section 130(1) of the Search and Surveillance Act 2012 on the 25th August.
Hannah is accused of failing to supply fingerprints and a photograph, at Christchurch police station on the same day.
The pair stated post outcome, "freedom of speech is worth fighting for in this country".
Hannah said "You as Kiwis deserve to know the truth about whatever you want to know the truth about."
She said people around the country were feeling "disenfranchised and silenced".
"We are simply trying to be a voice for the people. What crime is being committed here? "
Kelvyn and Hannah's address post outcome: https://counterspinmedia.com/featured/
🔄 Counterspin
NZs Media Revolution
Facts & Evidence based
Not a pay to say platform
www.counterspinmedia.com
Wednesday - August 31, 2022
Leave a Comment
This Feature Coming Soon!