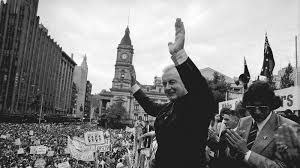 Australia's 1975 Constitutional Crisis The Governor-General's Dismissal of Prime Minister Gough Whitlam
By Thomas S.
6 October 2022
Throughout the Ardernian regime, a growing awareness of the role played by the Governor-General in the Commonwealth nations has tinkered in the minds of New Zealand's freedom advocates.
As the Sovereign's representative, many have suggested that an appeal to the Governor-General for the dissolution of Parliament on the basis of a 'vote of no confidence' might be a viable solution to the muddle our nation has found itself in.
Indeed, the Governor-General's constitutional duties in New Zealand include:
• summoning, proroguing, and dissolving Parliament;
• assenting to Bills passed by the House of Representatives;
• appointing Ministers of the Crown, on the advice of the Prime Minister;
• presiding over meetings of the Executive Council;
• exercising the prerogative of mercy.
Such an appeal would not be without precedent either, given that in 1975 the Australian Governor-General made such an intervention in Gough Whitlam's Labour Party government, in what has come to be known in contemporary political history as The Dismissal.
Whitlam is alleged by former Australian Army Officer and historian John Blaxland to have directed the Australian Security Intelligence Organisation to sever all ties with the American Central Intelligence Agency – a directive which then Director General of ASIO Peter Barbour ignored.
Indeed, Whitlam's distaste for American foreign policies directed against left-leaning governments at the height of the Cold War soon put him squarely on the radar of powers more important than himself.
In his New York Times Bestseller Sorrows of Empire Chalmers Johnson, former U.S. Naval Officer, Professor Emeritus of the University of California and CIA consultant has remarked:
In 1975, Australia's Labor Party prime minister, Gough Whitlam, wanted to close the then-secret satellite intelligence base at Pine Gap. He threatened to reveal that the base, which except for its antennas is mostly underground, was a wholly American-run military operation under the command of a CIA officer, facts that had been kept hidden from him. On November 11, 1975, in Australia's greatest constitutional crisis, the governor-general of Australia, Sir John Kerr, after being briefed by the CIA, obligingly fired Whitlam and appointed opposition leader Malcolm Fraser as caretaker prime minister until elections could be called.
It is debatable whether Whitlam genuinely saw himself as acting in his nation's interests while trying to banish American hegemony from Australian soil, or whether he perceived a personal threat from Uncle Sam, given his particular political sympathies.
Regardless, the Australian Governor-General's intervention in a democratically elected government was at that time unprecedented. According to Johnson:
Fraser was prepared to mobilize the army to maintain order, and Australia teetered close to revolution. In 1977, Warren Christopher, then assistant secretary of state for East Asia and later secretary of state, promised the deposed Whitlam that the United States would never again interfere in Australian domestic politics. But, of course, Pine Gap was not closed or brought under Australian government control.
It certainly gives pause for thought that although the Crown will bow to the will of the Washington Establishment, we the people seem to have thus far been left unprotected by the system of checks and balances which we assumed were a part of the Governor-General's duties.
It is yet to be seen whether an appeal to the Governor-General by the will of the people to dissolve a government gone rogue will be met with the same expediency that was afforded to a dissatisfied allied superpower.
🔄 Counterspin
NZs Media Revolution
Facts & Evidence based
Not a pay to say platform
www.counterspinmedia.com
Thursday - October 6, 2022
Leave a Comment
This Feature Coming Soon!